Scale Your Retail Workforce. Save Time & Money.
Quest Retail Staffing, a division of Quest Service Group, is a nationwide provider of retail staffing services, offering supplemental and temporary labor and innovative workforce technology solutions to retailers, Merchandising Service Organizations (MSOs) and brands in all categories. Quest Retail Staffing maintains and continually grows its extensive national database of professional, dependable retail labor and stands ready to assist its clients reach their sales and operational goals with confidence.
Service Categories
Merchandising
New Store Sets, Store Remodels and Resets
Fixture Installation
Retail Display Assembly
Stockroom/Warehouse
In-Store Demonstrations
Retail Promotions
Store Sales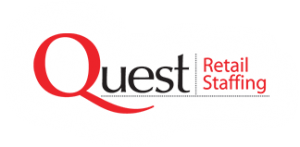 Quest Retail Staffing has over 30 years of experience providing in-store service to retailers brands, and fixture display and signage vendors in every category. Our extensive first-hand knowledge and experience with providing these services ourselves enables our team to offer temporary retail staffing solutions that are specifically tailored to your needs and produce the desired results every time.